Marilyn Manson fréquente la jeune actrice Evan Rachel Wood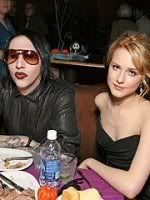 Marilyn Manson fréquenterait l'actrice Evan Rachel Wood, 19 ans, selon une source. Cette relation aurait même un lien avec la demande de divorce déposée le 29 décembre par Dita Von Teese, l'épouse de Manson, rapporte People.

Selon une source proche de Von Teese, celle-ci aurait le cœur brisé. Elle n'avait rien venu venir. La personne ajoute que les frasques et le goût pour la fête de Manson auraient aussi contribué à la demande de divorce déposée par la strip-teaseuse et porte-parole des cosmétiques MAC. Dita Von Teese et Manson ont été mariés pendant un an.

Manson, 38 ans, et Wood sont amis depuis quelques temps. D'après le site Web du chanteur, il a rencontré la jeune comédienne lorsqu'il lui a demandé de jouer dans son film d'horreur «Phantasmagoria: The Visions of Lewis Carroll». Elle a aussi posé pour une aquarelle peinte par l'artiste. À l'Halloween, elle a de plus assisté à l'ouverture de la galerie d'art de Manson à Hollywood, la Celebritarian Corporation Gallery of Fine Art.

Manson se trouve à Paris et n'était pas disponible pour faire des commentaires en lien avec sa relation avec la jeune star du film «Thirteen». Un porte-parole de Wood n'a pas voulu confirmer la relation entre les deux artistes. De son côté, le relationniste de Dita Von Teese n'a pas retourné les appels du magazine People.